MILK BATH PREGNANCY SESSIONS
This pregnancy photo shoot is artistic and very romantic. The future mother will be in a bathtub filled with milk and flowers.
I particularly like this kind of photo sessions because it allows a real moment of relaxation for the mother-to-be. In addition, it highlights the beautiful forms of the pregnant woman, bringing out the feminine side of the mother-to-be, and also, mothers tend to see how they are beautiful and even sexy!
After a moment of shyness, I often hear mothers who tell me that it is a real moment of pleasure and that they feel comfortable in the water. This is normal, because the milk bath is an ancient practice and known to soften the skin.
Take time for yourself, book this experience and keep unforgettable memories of your pregnancy!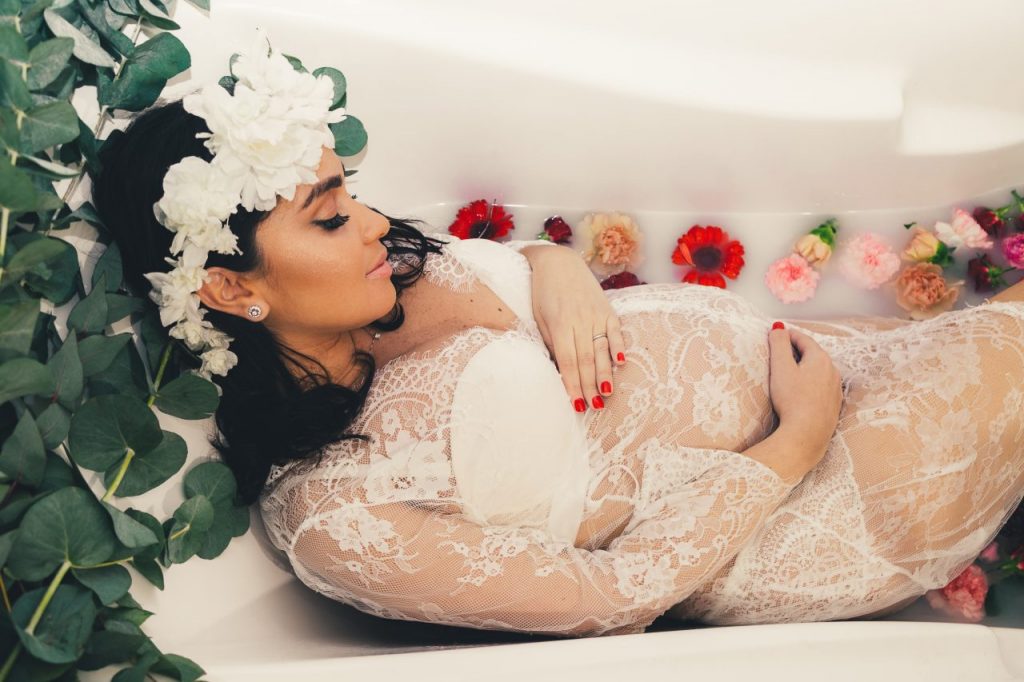 What is included in the price:
– A preparation guide for your Milk Bath session
– About one-hour photo session at your home *
– Installation of a floral decoration
– A private gallery to select your photos
– Delivery of 10 post-processed HD photos
Starting at 150 €
* Travel costs can be charged.
When should I book my milk bath pregnancy session?
As soon as possible, if you can. My agenda is often full, especially during spring and summer. In addition, I dedicate a few openings for pregnancy sessions because I prefer to prepare each session and offer an unique experience to each mother-to-be.
Booking in advance allows to secure your date, have more time to discuss and prepare all the details for your session. I therefore advise you to make an appointment from 21 weeks or more.
Where does the milk bath pregnancy session take place?
The Milk Bath session requires a bathtub in a bright place. If you do not have a bathtub at home, it may be in a family member's house. There is also the possibility of doing this session in a day use hotel which has a beautiful bathtub.
How long does a milk bath session last?
A milk bath pregnancy session lasts approximately 1 hour. We will have enough time so you will not get tired and the flowers will stay fresh.
Which clothes should I wear for a milk bath photo shoot?
Pregnant mothers very often pose with lingerie or lace fabrics. I also provide some accessories that you can choose when booking.
Do I have to be styled and made up for the milk bath photo session?
This is not mandatory, but makeup will be great to smooth and uniform your skin, as well as brighten your eyes. You will feel even more beautiful!
I advise you to be styled the way you like and feel beautiful. You must already have your hair and make-up done before the start of your session.
Will you work on editing my photos?
I work on colors, contrasts, saturation, shine, uniformity of your skin and some touch ups that I find necessary on each photo. The retouching work is long and important to have a perfect result!
When will I receive my photos?
72 hours after the session, you will receive one photo.
The other photos will be delivered within 10 week days.
Can I have all the pictures of the session?
Yes, you can buy extra photos. First, you will receive a link to access a web gallery with the best photos of your session which I will rework afterwards to have an optimal result during meticulous work by retouching photo by photo. Editing is part of the artistic side of each photographer and it requires a lot of working time.
If I lose my photos, can I request a duplicate of the photos?
Yes, all photos will be stored on local servers for a period of 6 months. After this time, the customer can request a duplicate of the photos, with costs for retrieving the photos from the cloud.