How to find a good wedding photographer?
Above all, capturing a wedding involves choosing a good photographer. He's the one who captures all the moments of your day. He will be your eyes on the preparations, the decoration, the emotions and the celebration of your love.
So it's not easy at all to find a good wedding photographer. There are several, but each one has its own way of working, a budget and above all, a photographic style.
To find a good wedding photographer, you must first establish some criteria for the search: the budget, the availability of photographers on the date of your wedding, the location and style of the photographer (good impression and posture, organized, photos that convey emotions, etc.).
Avoid calling on a loved one to carry out this important mission. Free photos come at a price, sometimes priceless after your wedding. Your wedding moments will be unique and cannot be missed!
But where to find a good wedding photographer?
Word of mouth always works, ask the people you know, you will surely find people delighted with their wedding photos. But be careful, if they are happy with their photos, ask to see them and find out if you are going to like it too. It is also a story of connecting with the photographer's work style and personality!
Do not hesitate to research and check out photographers professional website. You will certainly find a photo gallery there. It is through the gallery that you will identify the photographers who move you and match your style!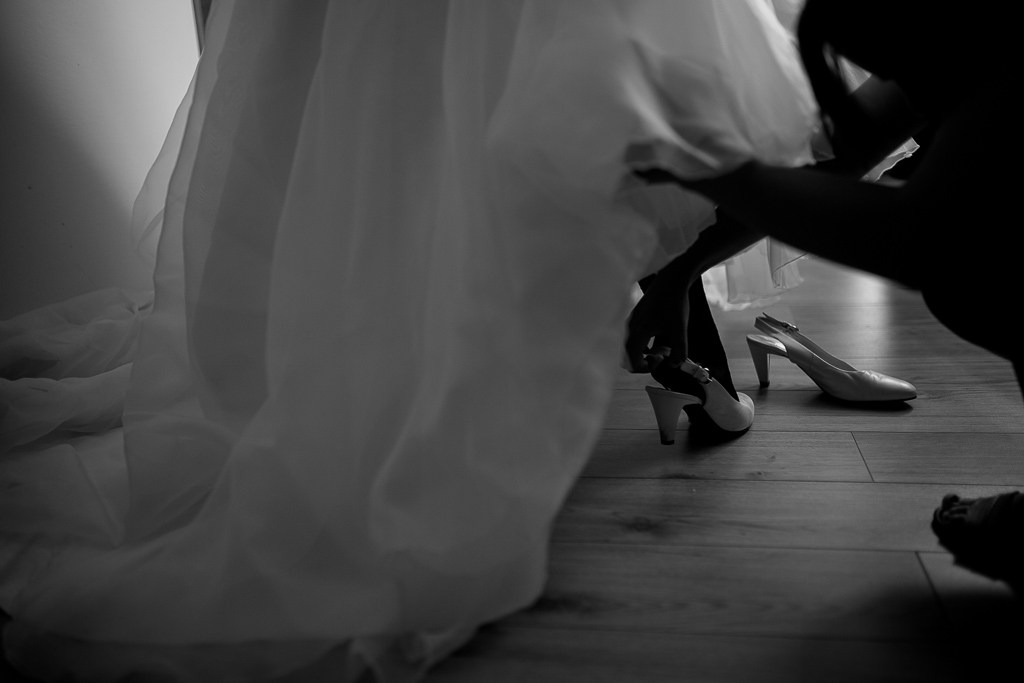 How to choose the wedding photographer?
A wedding is a unique moment, a whole day full of emotions and the photographer will spend the day with you. First of all, it is very important to be comfortable with your photographer, make a connection with him and have a trusting relationship.
Second, analyze the emotional weight and the joy of the photographer's images, look at his portfolio. Each one of us has a sensitive eye and yours and the photographer should be on the same page.
While looking at the photographer's images, you will notice that in addition to the emotions shown, there is also an artistic side. The way of playing with the light, the creativity and the composition of the photos but also his personal touch when editing the photos. For example, I have a tendency for the "moody" style with the well-marked orange and black tones, as you can see in my portfolio.
How much does a wedding photographer cost?
In France, a professional wedding photographer costs, on average, between 750 € and 3000 € (or even more). A professional photographer works for at least 10 hours during the wedding. He also work afterwards on sorting and editing all images. Without mentioning : marketing, communication and availability to prepare your wedding day as good as possible.
The photographer's service differs from all the other providers of your wedding. For example, the DJ's will be finishing by the end of the evening. The hairdresser and all the other services will be done after the wedding.
This is not the case for the photographer.
Photography has an important value. Apart from your wedding rings and invitations, it will be your photos that will bring you back to your wedding day.
How do you work?
I enjoy meeting the bride and groom to get to know them, their wishes and their wedding program, so I can have a clear idea on how to prepare myself for the wedding day. This meeting will also allow the bride and groom to have a better understanding of my work, my personality and my photographic style.
What is included in the wedding packages ?
First, a meeting, so we can discuss your expectations and the wedding program. And, the wedding day coverage according to the package you have chosen that you can check all details here.
All digital photos retouched in HD without a number limit and a private gallery for you and your guests.
You can also acquire an elegant high-end photo album.
When will I receive my wedding photos ?
You will receive your wedding photos 30 days after the event.
How many photos do you deliver?
I believe that the quality is more important than quantity. It's nice to have lots of photos, but it's more important to tell your wedding day story in a beautiful and priceless way. You will receive all retouched digital photos without unlimited number.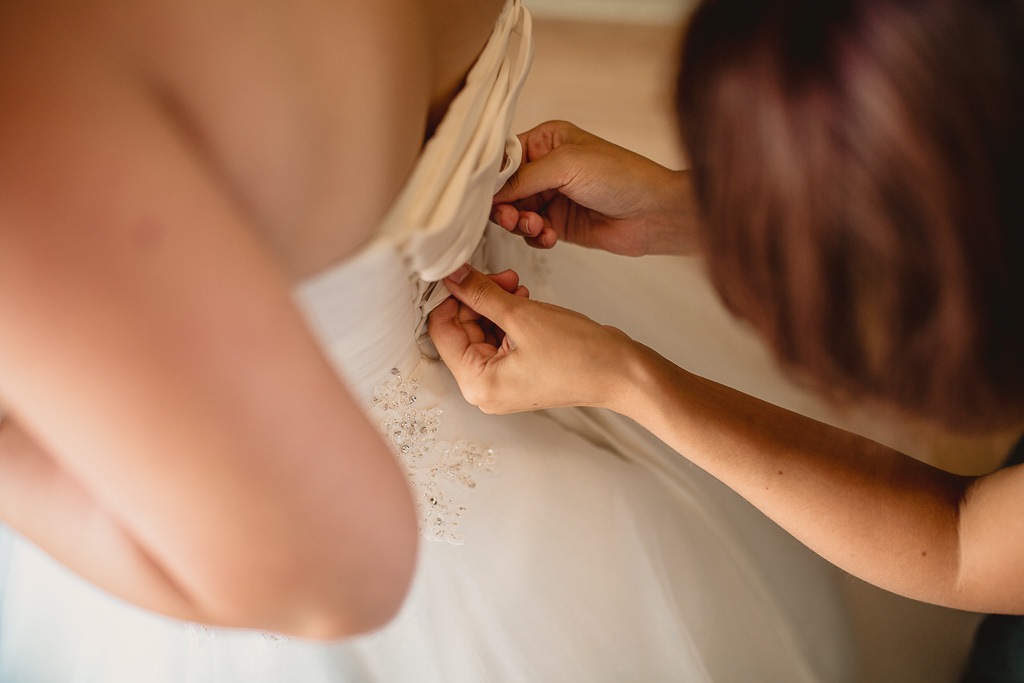 Do you make a contract?
Yes, always. The contract is a security measure for me and, above all, for you. It will allow you to verify that the photographer is a registered professional (number siret which you can check on sites like societe.com), which packages was chosen, delivery times, price, etc.
How to book a date ? Is there a deposit?
In order to reserve your date, we will sign a contract and a 50% deposit is made on the day of signing (money wire / check).
How soon should I book a date ?
As soon as you can. My agenda is often full during spring and summer.
Booking in advance allows to secure your date and have more time to discuss your wedding program as well as your expectations and all the details of your wedding. I advise booking 6 months in advance, but always ask if I have an opening.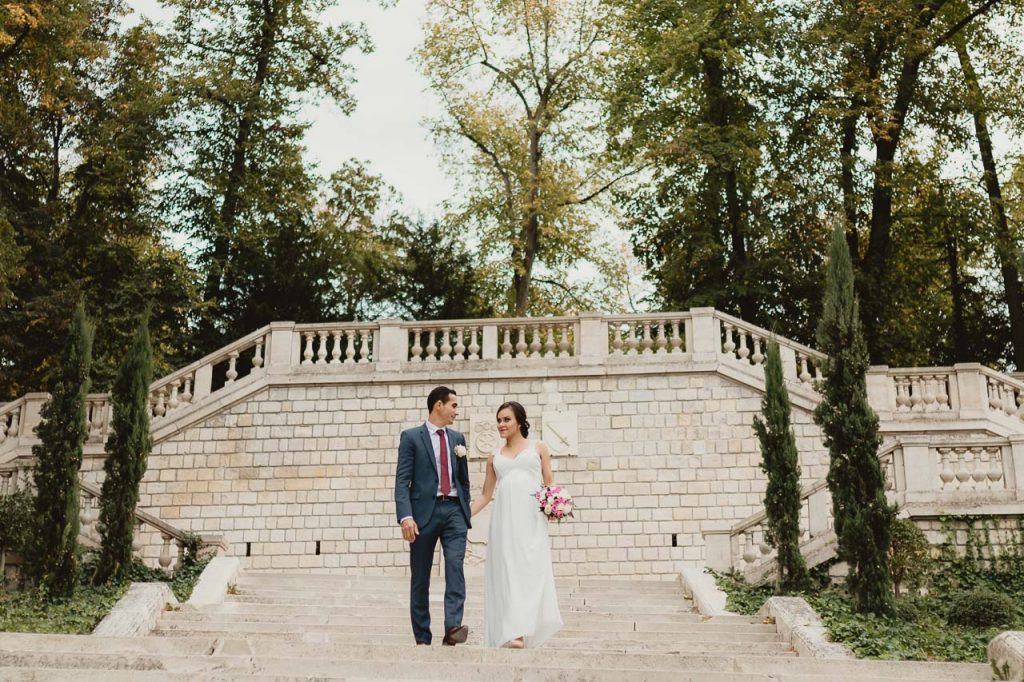 Do you work outside Paris?
Yes, frequently. I love to travel, and I am often doing that for work : elopements and capturing adventurous couples around the world. I'll be glad to know more about your wedding.
What equipment do you use ?
The most important : my eyes. In front of them, I use canon cameras : canon 5D mark3 and several high-end lenses.